To keep this article simple and short, the answer to the question what are the best drinking bottles, the answer is glass bottles, the drinking vessels many use at home.
These best bottles are made in the United States from recycled glass.  They are BPA (bisphenol A) free, dishwasher safe and can be very attractive.
What i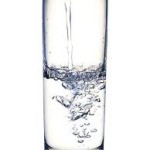 s BPA?  BPA stands for bisphenol A. BPA is an industrial chemical that has been used to make certain plastics and resins since the 1960s.  For detail information about BPA click here.
Your glass drinking bottles should have a wide mouth to add tea bags, fruit slices or ice cubes easily.   If they are not purchased surrounded, with a band to keep them from breaking or slipping, and to support your easy grip add the bands yourself.
This type of drinking bottle is the better alternative to BPA free hard plastic or stainless steel drinking vessels on the market today.  Fill your glass bottle with refreshing alkalized, antioxidant, hydrogen rich and super hydrating Kangen® water.
Enjoy, be hydrated and be refreshed!
Honor yourself!
by